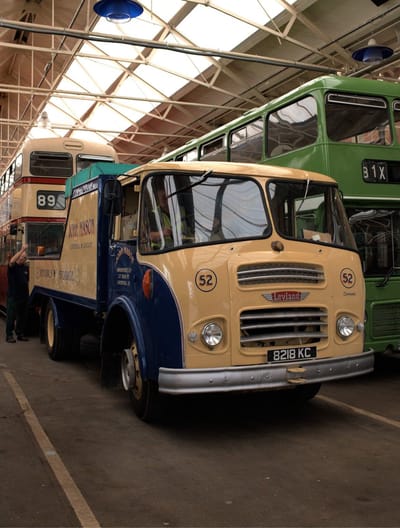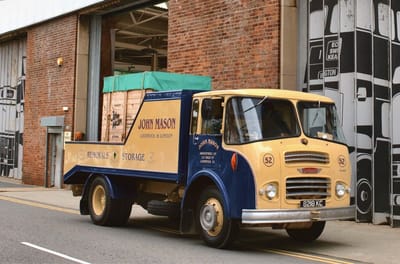 We are delighted to welcome to the museum collection a 1962 Leyland "Comet" lorry with a most interesting and unusual history, kindly donated by John Mason of Liverpool and beautifully restored in their well-known blue and cream livery. It was originally a flat- platform lorry built to carry "lift vans" or containers as they are now known, and could tow a matching drawbar trailer. However, it was possible to substitute a removal van body instead, making this an early example of what became known as "swap-body" vehicles. To accommodate the pantechnicon body, it was necessary to have the lorry fitted with a specially-designed cab, the only one of its type, built by Woodward's of Southport. This vehicle is therefore truly a part of North-West transport history, having been designed, built and operated in what was then all still Lancashire. Later in its career it was shortened and converted to a recovery vehicle, remaining in service until 1991, when it entered preservation, being subsequently returned to John Mason in 2013 with some 15,000 miles covered in its "retirement."
The firm of John Mason pre-dates mechanical transport and began in business with horse- drawn wagons in the late 19th century; longer-distance work was done using the services of the new-fangled railways. The first motor vehicles arrived in 1921, but horses were not finally phased out until not long before the start of World War II. Mason's business continued to expand and became an international haulage firm, remaining in the hands of the same family until February 2021 when it was finally sold in a management buy-out.
The new owner of the business was aware that the lorry we have just acquired was sitting in the workshops doing nothing so contacted the North West Museum of Road Transport to see if we would be interested in giving it a permanent home. Needless to say, we were thrilled and honoured to accept this most interesting lorry into the collection and we are very grateful to John Mason International Removers for passing it into our care. It arrived with a large quantity of fascinating documents relating to its past and these will be added to our archives to document its history.
The lorry is on display in the museum, complete with a dummy load in the form of a large wooden crate labelled for export to the USA. Film fans of a certain age will find the consignee of particular interest.
​
John Mason of Liverpool
​​​